LavaDerm Cooling Mist
Bring relief to stressed skin with a blend of gentle skin-soothing ingredients including lavender essential oil aloe vera. Spray directly onto the affected area and repeat every 10-15 minutes until desired relief is achieved.
Ingredients
Water, Aloe Barbadensis (Aloe Vera) Leaf Extract, Vegetable Glycerin, Sodium levulinate, Sodium anisate, Lavandula Angustifolia (Lavender) Oil, Nardostachys Jatamansi (Spikenard) Oil, Trace Mineral Complex (Chloride, Magnesium, Sulfate, Sodium, Potassium, Lithium, Boron), Potassium Sorbate, Citric Acid
† 100% pure therapeutic-grade™ essential oil.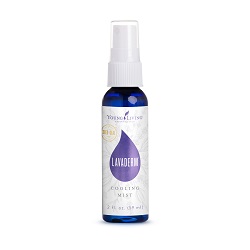 Available Items
2 fl oz - $18.09