Slique Tea Cinnamon Oolong Cocao - 25ct
Slique Tea is a delicious, rare blend of natural ingredients chosen for their impressive phytonutrient content. The tea features an exquisite blend of delicious cacao powder, cinnamon bark, flavourful ground nutmeg, and pure, proprietary vanilla essential oil. At the heart of this unique blend are two premium varieties of jade oolong tea leaves, highly sought-after for their rich aroma and antioxidant content.
How to Use
Bring 250ml of water to a rolling boil, let cool for three and a half minutes. Place one pouch in a cup, mug, or filter and add water. Leave to infuse for at least three minutes. Use daily before and after workouts, with meals, or any time you need a natural boost.
Ingredients
Jade oolong tea blend, inulin, cinnamon bark cacao powder, vanilla essential oil, ground nutmeg, sweetener: (Steviol Glycosides), natural frankincense flavour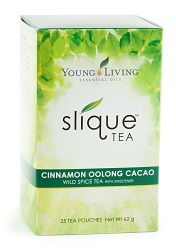 Available Items
25 ct - $41.45