Essential Oil - Myrtle
(Myrtus communis) has a clear, fresh, herbaceous scent somewhat similar to eucalyptus. It has been researched for its relaxing effects when inhaled. It is also helpful for meditation and lifting the spirit. Myrtle has an approximate ORAC of 253,512 (TE/L). TE/L is expressed as micromole Trolox equivalent per litre.
How to Use
For aromatic and topical use. Refer to the "How to Use' brochure and label.
Possible skin sensitivity. If pregnant or under a doctor's care, consult your physician. Dilution recommended. Keep out of reach of children. Avoid using on infants and small children.
Ingredients
Young Living Therapeutic Grade™ myrtle essential oil
(Myrtus communis)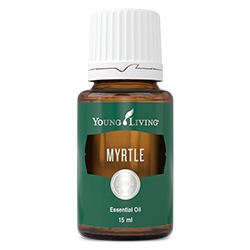 Available Items
15 ml - $56.60