Essential Oil - PanAway
PanAway was created by Gary Young following a severe injury to the ligaments in his leg. It includes several potent essential oils, including clove, which contains eugenol, a constituent commonly used in dentistry for numbing.
How to Use
For aromatic and topical use. Refer to the User's Guide booklet and label. Apply to the bottoms of feet and follow with topical application on location. Rub on temples, back of neck or forehead, or inhale for a soothing effect. Use with a warm compress along the back.Possible skin sensitivity. If pregnant or under a doctor's care, consult your physician. Dilution recommended. Keep out of reach of children. Avoid using on infants and small children.
Ingredients
Wintergreen (Gaultheria procumbens), helichrysum (Helichrysum italicum), clove (Syzygium aromaticum) and peppermint (Mentha piperita).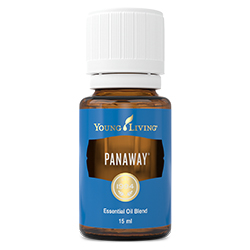 Available Items
15 ml - $157.90
5 ml - $68.75